The Current State of Quality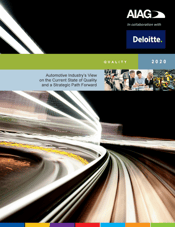 Ensuring quality standards and procedures grow with industry needs is a critical point of discussion for OEM's and suppliers today. AIAG's Quality 2020 report, developed in collaboration with Deloitte Consulting, shares the findings of a recent, groundbreaking industry quality survey. By understanding the results, AIAG, its members, and industry stakeholders are pursuing solutions that can be implemented and measured by 2020 to address the top five issues .
The report includes survey results, statistics, and other important information to give you the most up to date details on the current state of quality. You will also learn about:
Demographics and Segmentation

The Top Quality Challenges Facing the Industry

Concerns related to Problem Solving, Customer-Specific Requirements, and Quality Management Systems
Get a better understanding of the issues facing OEM's and suppliers and how the automotive industry will solve them by downloading the Quality 2020 Report today!