Our 2023 Training Catalog is Now Available!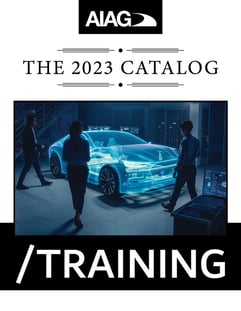 This year's training catalog provides a comprehensive overview of AIAG courses, self-assessments, and eLearning offered throughout 2023. Including both Live Virtual and in-person sessions for Quality, Supply Chain, and Corporate Responsibility, our industry-developed trainings focus on everything from the Quality Core Tools and IATF 16949:2016, to MMOG/LE, USMCA, ISO 14001, IMDS, and much more.
Click the button below to check out our 2023 Training Catalog today!
(Note: This catalog is available as a web-based flipbook for ease of viewing – but you can view it as a PDF by clicking the PDF icon in the flipbook controls.)
---
Not sure where to start your AIAG journey?
In collaboration with the industry, AIAG has developed free Quality, Supply Chain, and Corporate Responsibility assessments to help determine where you and your organization should begin.

Already know what you need? Visit our Publication and Training stores to learn more.
Take FREE Online Assessments LEARN MORE Visit our Publication Store GO TO STORE Get The Latest Training VIEW LIST