The 2021 Catalogs Are Now Available!
Our 2021 Product and Training Catalogs include the most up to date information for tools, standards, and training to keep you abreast of changes in the industry. Make 2021 a great year for you and your organization by downloading these free catalogs now! (Note: These catalogs are available as web-based flipbooks for ease of viewing – but you can view them as PDFs by clicking the PDF icon in the flipbook controls.)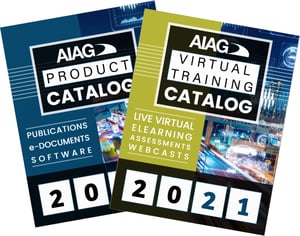 Inside you will find:
Information on updated training, standards, and publications
Key industry event dates and locations
Member exclusive publications and materials
New strategies to make your operations more efficient
The most in-demand reports and standards
Ensure your team is ready to improve productivity and efficiency in 2021 and see what tools are available to you in the new 2021 Product and Training Catalogs.
---
Not sure where to start your AIAG journey?
In collaboration with the industry, AIAG has developed free Quality, Supply Chain, and Corporate Responsibility assessments to help determine where you and your organization should begin.

Already know what you need? Visit our Publication and Training stores to learn more.
Take FREE Online Assessments LEARN MORE Visit our Publication Store GO TO STORE Get The Latest Training VIEW LIST