Ensure Conflict Minerals Reporting Compliance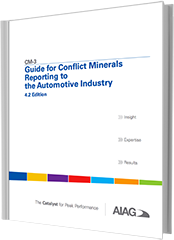 AIAG's Conflict Minerals Work Group, comprised of leaders from OEMs and Suppliers, developed the "Guide for Responding to the Conflict Minerals Reporting Templates" to unify the expected quality of supplier responses to the Conflict Minerals Reporting Template (CMRT). Make sure your CMRT response has the right information with sufficient comments to get approved the first time. Get you and your suppliers on the same page and ensure compliance with the conflict minerals reporting requirements of the Dodd-Frank Act Section 1502.
The Guide will help your organization to:
Answer key questions in the Reporting Template.
Get the right information from your suppliers the first time.
Ensure you have the right responses before you submit with the assessment process.
Complete proper due diligence.
Apply the process throughout your supply chain.
Don't waste time resubmitting your CMRT, use this guide to do it right the first time.